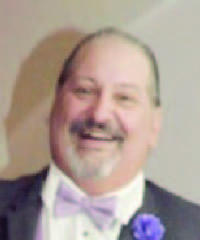 Age 62, of Fenton, passed away on September 8, 2023. In accordance with his wishes, cremation has taken place. A celebration of life will take place from 2pm, until 4pm, on Friday, September 29, at the Detroit Cremation Society, 8253 S Saginaw Street Grand Blanc, Michigan 48439. Expressions of sympathy may be shared with the family on Bradley's Tribute Wall at detroitcremationsociety.com.
Bradley Steven Lemke was born on September 18, 1960, in Flint, Michigan, the son of Carol Lemke. He was raised by his loving grand parents in Fenton, Michigan. In 1979 he married his wife Jackie and they had two children. He had his dream career in the event security business working within the music industry and getting to meet many of his idols. He was also a rockstar in his own way when he worked at the Michigan Renaissance Festival at the tomato throwing booth. He was a natural at getting people to laugh and always had a crowd of people to watch his wild antics. He had three beautiful granddaughters who he loved to dote on. After he retired he became an activist for many causes but his main passion was legalizing cannabis. He loved to spend time with his family and friends. He was always there with a helping hand for anyone who needed it. He will be greatly missed.
Bradley is survived by his beloved wife; Jacquelin Lemke, children; Tracey Lemke and Elisha Eaton-Lemke, granddaughters Laurel Lemke, Lilly Lemke and Rose Pietrzak, daughters in law Traci Baisch and Abigail Eaton-Lemke, siblings; Kelly Eckler, Ron Eckler, Kimberly Reddell and Lisa Bellmore, and many nieces and nephews along with other loving family members and dear friends.
Bradley is preceded in death by his parents, grand parents and beloved father in law.
Bradley's obituary was written by his loving family.
Let the family know you care by sharing this tribute.