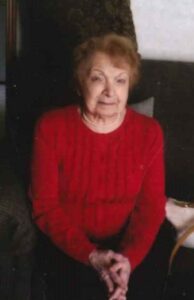 Age 97, of Clio, died Thursday, November 14, 2019, at home surrounded by her family. A Celebration of life will take place at a further time, in Central Lake Michigan.
Ann was born on June 6, 1922, to Mr. and Mrs. Paul and Mary (Zuk) Salawaga in Detroit, Michigan. She married Roy J. Fowler 1943 Coryell County, Texas.
Ann and Roy lived in Muskegon, Michigan, for a while, then later moved to Clio, where Ann raised her family and started her beauty salon. She attended the Methodist Church on Wilson Road in Clio. She had enormous faith in the Lord. Ann and Roy later retired in East Jordan, Michigan, where Ann became very active playing bingo. She went to Bingos all over and was usually very lucky. Ann took up fishing and loved it, and she caught one beauty that was mounted.
Ann loved her family, and you never went hungry when you came to visit. After her husband passed, she moved back to Clio.
Ann will be lovingly remembered by her family: Janice St. Ratman (Clem), Bob Fowler (Karla), Jerry Fowler (Teresa); ten grandchildren; her beloved sister, Jean Wiersing niece and nephews, and many special friends.
Ann was preceded death by her parents, her husband, and two sisters: Olga and Helen and one brother Stan.
The obituary was lovingly written by Ann's family.
Let the family know you care by sharing this tribute.