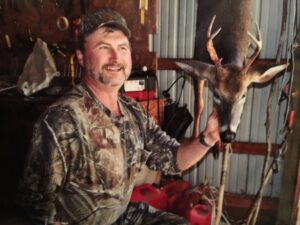 Age 60, died Wednesday, May 15, 2019, at his residence with friends and family by his side. A celebration of Aaron's life will take place at a later date.
Aaron was born February 25, 1959, in Owosso, the son of Mr. and Mrs. Arnold Bruce and Beverley Ann (Ade) Kagle. Educated locally, Aaron graduated from Coruna High School in 1977. He went on to further his education at Mott Community college, with an Associates Degree in Engine Mechanics. On Groundhogs day of 1993, February 2, Aaron would marry Debra Fischhaber in Las Vegas, at the Little White Chapel. Aaron's interest in mechanics would lead him to General Motors, where he was employed for 30 Years. Aaron was THE outdoorsman. He loved to hunt, fish, snowmobile, and be on his boat. His favorite fishing spot was Big Twin Lake and Lake Michigan. During the hunting season, he enjoyed hunting in New Fowland, and in Colorado. Aaron had a huge zest for life, and his positivity will be missed.
Left to cherish his memory are his wife of 26 years, Debra (Fischhaber); brothers: Alan and wife, Norma Kagle, Arnie and wife, Debra Kagle; special nieces: Amy Kagle, Angela Kagle, Carli Kagle; uncle, Hary Ade; special aunt, Alice Beach; special cousins John Ade and Edward "Ed" Ade; mother-in-law, Alice Fischhaber, special friends: Ron Haynes, Tommy "Doc" Lee, Steve Ackerson, Mike Ackerson, Steve Parker; many nieces, nephews, cousins, and friends; and his beloved dogs: Molly and Barney.
He was preceded in death by his parents, and father-in-law, Paul Fischhaber.
The family would like to extend a special thank you to McLaren Hospice.
Friends may share a memory with the family online at www.martinfuneralhome.com.
Let the family know you care by sharing this tribute.