1st Lt. Harry Wilson Wagner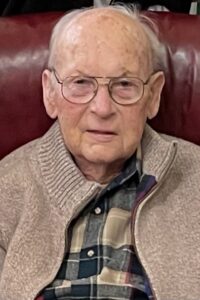 Age 92, died peacefully at home December 7, 2021 with his family by his side. A funeral service will take place on Tuesday, December 14, 2021 at 12 noon, with visitation starting at 11:00 am at First Congregational UCC in Grand Blanc. Military honored burial at Great Lakes National Cemetery will take place at a later date. The family will be present to receive friends and family from 4pm until 8pm on Monday, December 13, 2021 at Detroit Cremation Society in Grand Blanc. In lieu of flowers, those desiring may direct memorial contributions to The Boys Scouts of America, Michigan Crossroads Council, or The First Congregational Church in Grand Blanc. Condolences may be shared on Harry's tribute page at detroitcreamtionsociety.com.
Harry was born on April 7, 1929, in Pontiac, Michigan son of Mr. and Mrs. Wilson and Arvilla (Murray) Wagner. Harry graduated Michigan State College where he was in ROTC. He enlisted into the United States Army as a 1st Lieutenant. During his military service Harry spent a year in Fort Knox in the special services unit where he managed 7 movie theaters on base. Harry also started a 15-minute radio show specifically for kids that talked about safety. He was then deployed to Korea where Harry was in charge of 7 tanks.
Upon his return to civilian life, Harry met and fell in love with Jane. They married on September 10, 1955. Their marriage blessed them with 3 children, Harry (Skip), Linda, and Bryan. Harry and Jane were very involved with the community with a special fondness for the First Congregational Church and the Boy Scouts. Harry, along with Jane, were extremely involved with the church during their entire marriage. They served on many committees and have developed many lifelong friends as a result of their involvement. He was known by some at church as the candy man due to his involvement with the annual candy making fundraising endeavor. In 1968, Harry formed scout troop 368 which started with 6 boys and now has produced more than 130 Eagle Scouts. During his time with the Boy Scouts Harry also held several positions on the council level. Harry's involvement with the Boy Scouts earned him several honorary awards such as: Silver Beaver, Silver Antelope, Golden Arrowhead, and the Distinguished Eagle. An Eagle Scout himself, Harry was very proud to be a part of the Boy Scouts of America.
Harry's career with Buick was varied and very interesting. Harry was Shows and Exhibits Manager for years, producing auto shows and Buick dealer meetings throughout the country. After 37 years with Buick, Harry retired in December of 1986. Following his retirement, Harry and Jane bought an RV and traveled throughout the United States where they have visited every state. Their adventures took them around Europe as well. Gathering with friends in Florida they decided to start taking cruises, Harry and Jane went on over 15 different cruises. Harry enjoyed traveling and the outdoors. He water skied, snow skied, loved camping, and had a lifelong love affair with White Lake. He was adventurous and loved to try new things. Most of all, Harry's life experiences being a husband, father, grandfather, and great grandfather were the most important. Teaching and watching them grow into young men and women was Harry's greatest achievement. Harry was loved by so many; he will truly be missed by those whose lives he touched.
Left to cherish Harry's memory are his loving wife of 66 years, Jane; his children: Harry "Skip" (Sharon) Wagner, Linda Jo Carroll, and Bryan (Sue) Wagner; grandchildren: Hillary (Alex) Blankenship, Amelia (Bobby) Carroll, Mallory, Matthew, Megan (Mark) Fijalkowski, and Nicole; great grandchildren: Isabella, Daniella, Alana, Eretria, Aiden, Ivy, and Kiya; several nieces, nephews, and other family members and friends.
Harry was preceded in death by his parents and his brother, James "Jim" Wagner.
Let the family know you care by sharing this tribute.