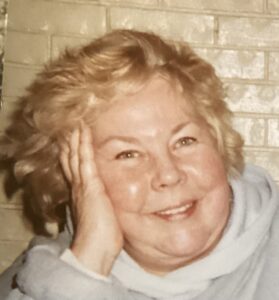 The angels rejoiced when Joanie Fischer Hoskins, 78, glowingly smashed through Heaven's gate on October 12, 2023. Her light was ignited on September 19, 1945. Raised in Goodells, Michigan, she read in treetops, went to a one room schoolhouse, and devoured books and poetry. A Celebration of Life will take place at 5:00 p.m., Saturday, November 4, 2023, at Detroit Cremation Society. Pastor Al Yerke to officiate. Family will be present to receive friends from 3:00 p.m. until the time of the Celebration at 5:00 p.m. Expressions of sympathy may be shared with the family on Joans tribute wall at detroitcremationsociety.com.
Gifted, she graduated one year early from elementary school. She graduated from Yale High School in 1963, then graduated a year early from Michigan State University with a bachelor's degree in teaching and she received a teaching certificate. She earned her master's degree from Wayne State University where she worked on a PhD. She was a Mensa member; an Eastern Star member for more than 50 years; a lifetime Audubon Society member; lifetime Sierra Club member; and lifelong Democrat. She was a bridge master, world traveler, animal lover, and quintessential giver of joy and laughter. As the youngest to teach in Port Huron schools, she started as a reading specialist at Roosevelt School in her early teaching years and retired after 31 years of teaching from the Port Huron Area School District. Her passion was teaching literature to hundreds of students at Port Huron Northern High School. She lit up her classroom, and, incredibly, many students still have their personal poetry books and assignments, including a vivid lesson a student still remembers on transcendentalism when she said to students, "This is how you live a fulfilled life! Be self-reliant, be a nonconformist, think for yourself, be confident in who you are, and believe in and be so kind to nature." Joan loved traveling, thinking, poetry, kayaking, laughing, igniting passionate talks, fine dining restaurants, "Mom n' Pop" places with her daughter, Democrat events, water, dancing, and living a full life beautifully.
Joan was a fearless, passionately alive, brilliant woman who truly listened, truly wanted to inspire, and left indelible marks on her students. Around her, you smiled, her infectious laughter luminated the room with her light, her sass, her fire. She glowed when she entered a room as if she was Vivaldi's "Spring" personified. She vibrated high. Animals, babies, and strangers at Meier made her beam as if they were part of her family. And they all were.
Joanie is survived by children Susan Elizabeth Fischer (daughter) and Eric Fischer (Sharla Hreha); three grandchildren Alyssa Lafave (granddaughter), Cory Fischer (Sierrah), and Kirra Fischer (granddaughter); her nieces Kim Fischer Huey, Shellie Fischer, and Julie Fischer Delaney; many cherished friends including Sandy Campbell Cunningham and DeeDee Quaine; and so many students who knew they were her favorite including Michelle Barker Griffel.
She was preceded in death by her parents Alma and Paul Hoskins, brothers Solon and Shannon Hoskins, Grandma, former husband Bill Fischer, cousins and so many friends.
A special thanks to Dr. Jarad, staff with The Care Team Hospice, and staff with The Maple Place Assisted Living for all they did while caring for Joanie.
Let the family know you care by sharing this tribute.